PAK-TURK RESEARCHERS' MOBILITY GRANT PROGRAM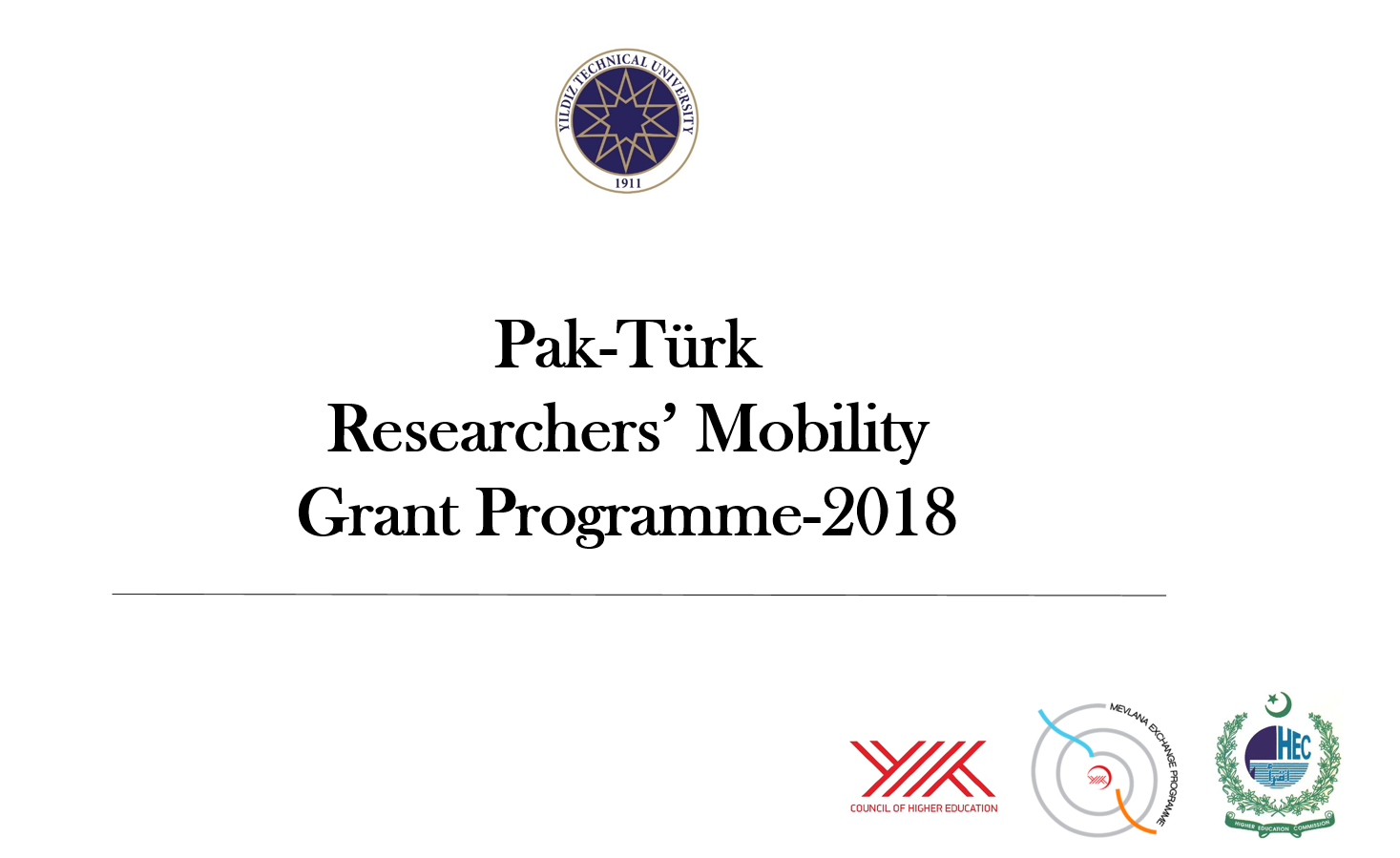 Application status: CLOSED*
*Students are required to be included to a project team. Individual student applications will therefore be disregarded.
Application period: 08.07.2018 - 15-09.2018
Pak-Turk Researchers' Mobility Grant Program 2018 is one of the upshot of Turkish-Pakistani cooperation within the scope of internationalisation effort of higher education systems. It is implemented in Turkey by the Council of Higher Education. (CoHE) and in Pakistan by the Higher education Commission (HEC) to support the academic / research activities under article-3 of the Agreement of Cooperation in Higher Education between both the countries signed in 14 April 2016.
The objective of this program is to develop new scientific and technological cooperation between Turkish and Pakistani higher education institutions by supporting the mobility of graduate students and academic staff.
Projects
Selected thematical areas are eligible for Pak-Turk Researchers' Grant Program.
Six priority fields have been mutually identified for year 2018 by CoHE and HEC as follows;
Energy Technologies
Food Technologies
Sustainable Environmental Technologies
Material Science
Smart Transportation Systems
Robots and Smart Systems
Institutions
All state universities from Turkey and HEC recognized universities in Pakistan are eligible for projects Project submit under Pak-Turk Researchers' Mobility Grant Program 2018.
Higher education institutions, intended to submit projects under this program are required to sign a Pak-Turk Researchers' Mobility Grant Program's (Mevlana Exchange Programme Protocol for Turkish Side).
Partners will have to submit the same project to CoHE and HEC at the same time.
Criteria for projects
Projects, which will run for minimum 1 year, aimed at improvement and enhancement of on-going collaborations and generating new ones.
Active participation and mobility of graduate students and academic staff.
Applicants should have a citizenship of their residence country.
Graduate students should be enrolled in a program at one of the Project partners.
Faculty members in Project team should be full time staff of partner universities.
Project coordinators from each partner university should have a title of Prof. / Assoc.Prof. / Asst.Prof.
Selection committee of the projects
Project applications will be assessed and ranked by the ad hoc national mechanisms acoording to the quality of projects including relevant to thematic areas of the call, level of collaboration and involvement of graduate students.
Only application submitted jointly by the principal investigators of the Project from partner universities responsible for program management in their respective countries will be declared eligible.
Project proposals received will be reviewed / evaluated by external experts the scientific evaluation of projects will be managed,
-on the Turkish side, CoHE;
-on the Pakistani side, HEC.
Operating procedures
Calls for projects will be on annual basis.
Joint applications will be submitted on prescribed form. Each partner of a project will have to submit an application form their respective country focal office.
Eligible mobility duration of graduate students and staff: (within the same Academic Year)
| | | |
| --- | --- | --- |
| | How many times? | How long? |
| Graduate Students | 1 max/per year | 1 semester min./ 2 semesters max. |
| Staff | 1 max/per year | 15 day min./3 months max. |
The renewal of the annual funding is subject to submission of a Project Progress Report depending on Project duration:

-If duration of the Project is only one year, a report on achieved activities and results should be submitted to CoHE and HEC at the end of the Project.
-If this more than one year, but maximum to three years, a report on achieved and/or optimal consumption of the activities and results should be submit to CoHE and HEC before the end of each year;
Both countries will bear the travel + living expenses between Turkey and Pakistan for their graduate students and academics involved in the projects. Any other funds required for the implementation of joint projects should be provided by the laboratories or other sources.
Mutually selected projects will be co-financed by Turkey and Pakistan.
Publications
Co-signed papers drafted within the framework of the Project will mention the support granted by the HEC in Pakistan and by the CoHE in Turkey.
Project monitoring
The renewal of the annual funding is subject to the submission of a scientific and financial progress report at the end of each year.
A joint final report is required no later than three months after the completion of projects.
All progress report will reviewed by the experts.
Submission of applications
Each project principal in investigators can submit a maximum of two applications for the program.
Each Project must be submitted with prior official approval and should be duly signed by the supervisory institution (university, institute etc.).
Applications must be submitted jointly to the HEC and CoHE.
CVs of Turkish and Pakistani graduate students and acedemics participating in the project should be attached to the application form.
Application will be submitted on the prescribed forms:
-For the Turkish part: on the CoHE web site;
-For the Pakistani part: on the website of the HEC.
Time schedule
Deadline for submission of joint proposals: 15th September, 2018
Evaluation of proposals/internal meeting: 15th October, 2018
Joint Selection Committee: October 2018
Announcement of the awarded projects: November 2018
Online completion of application
Each applicant has to anticipate the final closure of the call so as to avoid any technical issues which may comprise their final application.